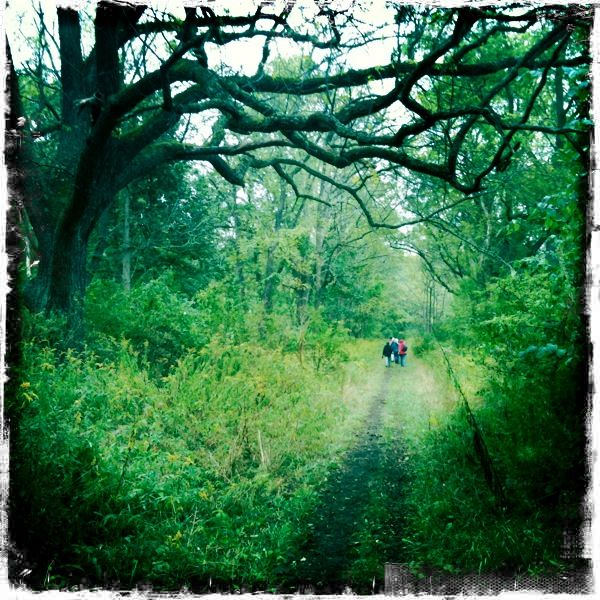 pic by lisa rose starner, from a class walk
. : 2 0 1 3 : .
a four season herbal intensive
with michigan herbalist jim mcdonald
please note: I'm very close to (or possibly, as you're reading this) full.
Send along an email to see if space is still left or to be put on a waiting list.

overview...
This course will be an experiential, hands on exploration of the plants growing in the fields, woods and yards here in Southeast Michigan, held predominantly in Oakland County. The focus is on traditional western herbalism with a bioregional emphasis; participants will learn how to become herbalists who make their own herbal preparations to address the health and wellness of themselves and their friends and family from the plants that grow around them (it is not really intended to create educated consumers who buy herbs at health food stores... I'm a bit more grassroots than that). This intensive won't make you a qualified practitioner to go out and start a practice (as many factors determine when someone is ready to do that), but it will provide a very solid foundation from which to achieve that end, should it beckon to you. If you're already a practitioner, this course will offer invaluable information with which to gain a deeper understanding of the practice of energetic herbalism, allowing you to better tailor your treatments to the specific person and condition at hand.

The core of this course lies in the foundational energetic principles of western herbalism. Yes, that sounds both somewhat mystical and perhaps a bit complicated, but in reality, it's rooted in relearning how we perceive health and illness, and the herbs themselves, so that we learn to recognize such patterns as excess and deficiency, hot and cold, dry and damp, tense and lax. This provides a much more useful and comprehensive understanding of herbcraft than knowing chemical constituents, the latest (and everchanging) results of scientific studies, or simply learning to associate the name of a problem with the name of a herb. To effectively use plant medicines, you'll need to understand the foundational properties by which herbs work, how the body's organs and systems function, how to use your senses, intellect & intuition to perceive the physiological, energetic and spiritual properties of herbs, and myriad other nuances that make for a solid foundation in herbcraft and allow you to develop a personal style and approach to guide your endeavors.

There will not be any kind of testing or grading, but there will be reading assignments, projects to complete, and I will ask questions during classes. The projects predominantly involve identifying, harvesting, making and using your own herbal preparations... you need to use herbs if you want to understand them. We will not, for the most part, be harvesting during classes.

This intensive will be structured a bit differently than the other classes I offer. While much of the same ground and principles will be covered, the intensive is will present information and concepts that build upon the foundation of previous classes. Classes will involve herb hikes at local parks, with discussions of habitat and harvest, properties, history, lore, current and traditional uses and my direct experience using these herbs. Other sessions will meet at my home in White Lake, and be a review of readings, and then an exploration of the body's organs and systems, focusing on how to differentiate energetically between the ways a condition may manifest in different people, and how to use herbs effectively with this knowledge.

You'll also be involved in an ongoing group dynamic, which allows you to likely learn as much from each other as you will from me. The value of this could not be overstated.

If you're considering this intensive, please be willing to commit to coming to the classes and spending a lot of time outdoors, with your hands in the dirt, hiking (vigorous hiking up hills and down dales; you'll need to be physically able to spend a day out on the trail), dealing with bugs, perhaps some inclement weather (we will meet rain or shine), and above all be willing to put in the time outside of class to study and to find places near you that you can get out into and harvest your herbs from. This may be your yard, a neighbors yard, a community garden, a friend's property - wherever. You'll need to do the reading. I will either provide copies of articles, links to them if they're available online, or can offer necessary books for sale (though feel free to get them online, at a bookstore, or from a library if you prefer). There will be a few required books.
I record pretty much the entire course as MP3 files, which all participants get. This helps not only as an info source for future reference, but also allows people to listen to any classes they may miss due to illness or unforeseen circumstances. I also set up an email listserve for participants to facilitate interaction and dialogue between classes.
Of course, there'll be quite a bit more covered as the class unfolds.
about me, the teacher...
I'm an herbalist; I deeply love the plants I share this land with and one of the ways I give back to them is by teaching others what I have to offer. If you're considering taking a long term course like this, you'll want to feel in synch with the person teaching it. Ideally, you'll come to one of my classes before hand, but please also look around online and see what I've written and others have been kind enough to say about me.
You can listen to an hour long interview I did with John Gallagher of HerbMentor.com here, and there's a boat load of posts I've written on Rebecca Hartman's herbwifery forum, and you can also look through the archives of Henriette Kress's or the AHG herbal listserves, both of which I've posted to prolifically (you'll need to subscribe to these). The rest of this site is also rife with my writings. A student in my 2010 course wrote this. If you'd like to see "a resume" of sorts, you can click here. I'm also very happy to talk to you (and would prefer to) and answer any questions you have about the course.
cost...
The cost for the intensive will be $975. This will be due in two payments, $425 initially, which will register you for the intensive and hold your space, and $550 by/on the first class session.

Please be aware that the $425 deposit is non-refundable for cancellations made between the time the initial payment is sent in and the first class, when payment is due in full. After the first class, ***there will be no refunds for any tuition paid***.


travelling in from out of state?
I know that getting here from farther away adds extra travel time and expense. Though it depends on where you're coming from, a few years ago a student told me about the Mega Bus, which allowed him to travel in from Chicago to Detroit or Ann Arbor for just a few bucks (quite literally, just a few dollars each way). You would need to arrange travel up to White Lake, this may be possible by connecting with students living in those areas. Check into it and see if it's feasible for ya.

dates...

april
saturday the 6th
sunday the 7th

may
saturday the 4th
sunday the 5th

june
saturday the 1st
sunday the 2nd

july
saturday the 6th
sunday the 7th

august
saturday the 3rd
sunday the 4th

september
saturday the 7th
sunday the 8th

october
saturday the 5th
sunday the 6th

november
saturday the 2nd
sunday the 3rd
Times will generally be 11ish to around 5ish, though it's probably prudent to state that I'll frequently run over if no one tells me times up.

So...
If you have any questions, please just let me know and I'll do my best to further clarify my plans and intentions. If you're ready and rarin' to go, please proceed as follows:

*Contact me either via phone or email to let me know you're interested in signing up, and to discuss any questions, particulars or whatnot that you or I may have.

*Let me know when you send a check out so I can be on the look out for it. You can also pay via credit card through PayPal as a means of "financing" the course and making payments as you're able.

you can send your first payment to me at:
jim mcdonald
4535 jozwik
white lake, mi 48383
Again, if you're interested, please let me know as soon as you're able.
Thanks for your interest and many blessings...

jim mcdonald
~herbalist~
(248) 238-8733
jim@herbcraft.org